Lone Star Healthy Streams - August 18th, 2023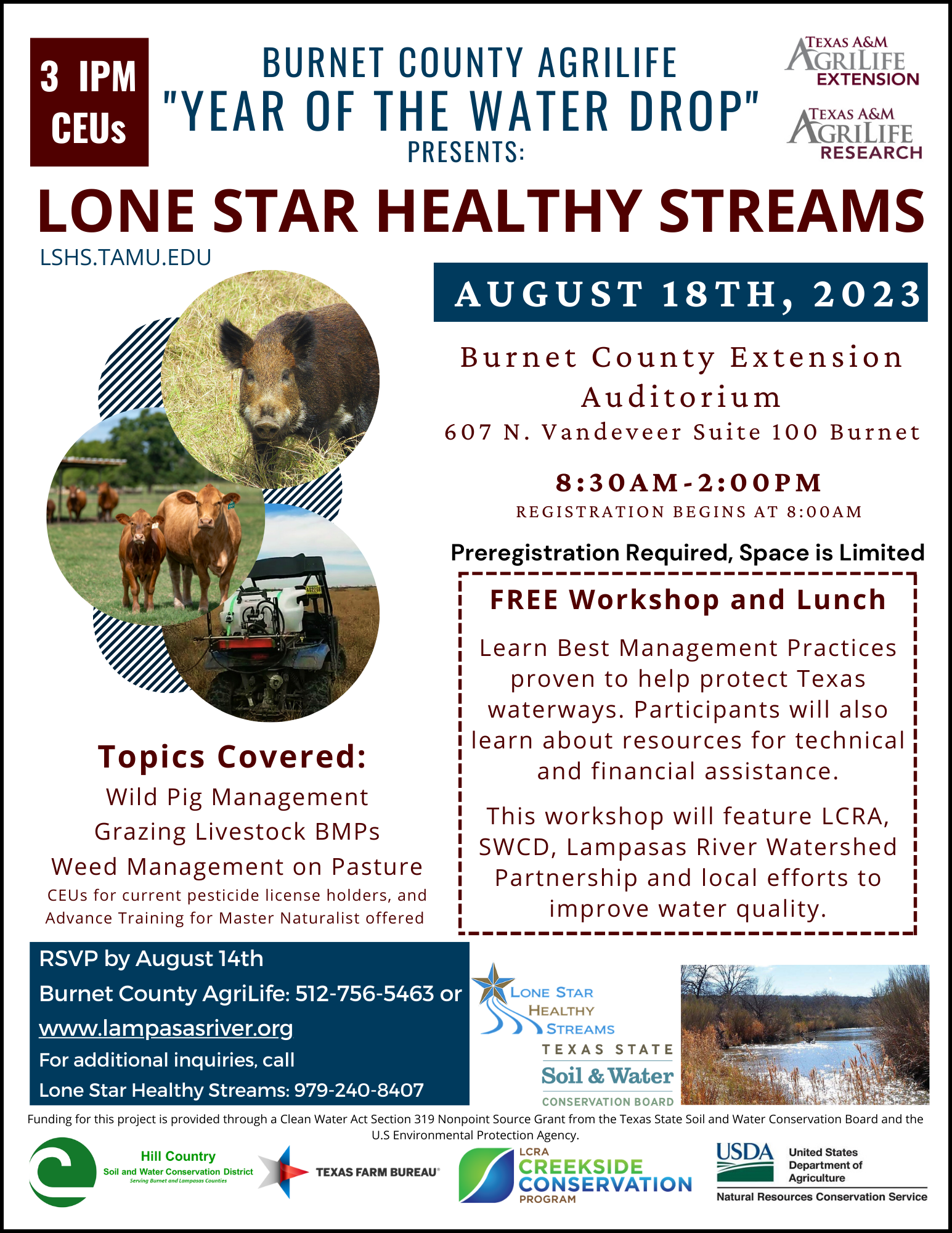 Workshop Details
August 14, 2023; 8:30 am  - 2:00
Burnet County Extension Auditorium
607 N Vandeveer, Ste 100, Burnet, TX 78611 (map)
Doors open at 8:00 am for sign-in
Space is limited so pre-registration is required by August 16, 2023
Pre-register either online at www.lampasasriver.org or by calling the Burnet County AgriLife office at 512-756-5463
Pre-registration link:
Register Here
Workshop Description
This workshop will feature the Lampasas River & Colorado River Watersheds and local efforts to improve water quality. Topics covered will include basic watershed function, water quality and specific best-management practices that can be voluntarily implemented to help minimize bacterial contamination originating from grazing livestock, wild pigs and pasture weed management. Participants will also learn about local resources for technical and financial assistance. The aim is to increase awareness, provide education materials to Texas producers and landowners, and encourage implementation.
Three Integrated Pest Management (IPM) Texas Department of Agriculture continuing education credits for pesticide applicators are available. Additionally, this class has been approved for 2 advanced training credits for Highland Lakes Master Naturalists.
For more information on the Lone Star Healthy Streams program, contact Leanne Wiley at 979-240-8407 or leanne.wiley@ag.tamu.edu. For more information about the upcoming class, please contact Kelly Tarla, Burnet County Agrilife Extension agent at 512-756-5463 or kelly.tarla@ag.tamu.edu or Lisa Prcin at 254-774-6008 or lprcin@brc.tamus.edu.