Septic System Clinic for Homeowners - August 22, 2023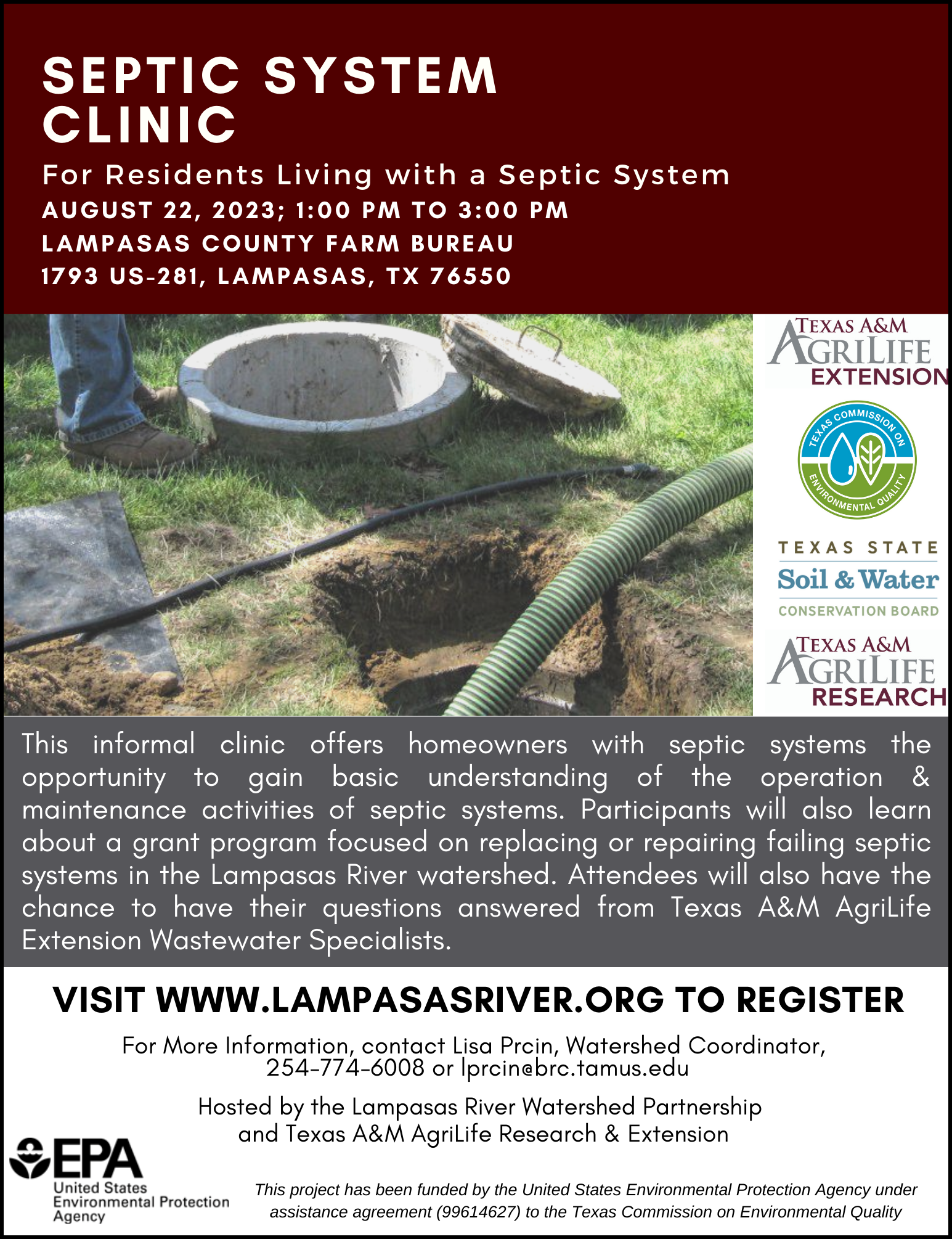 Workshop Details
August 22, 2023; 1:00  - 3:00 pm
Lampasas County Farm Bureau
1793 US-281, Lampasas, TX 76550 (map)
Doors open at 12:30 pm for sign in
Preregistration is requested but not required
Register Here
Workshop Description
Home septic systems, also known as on-site sewage systems, or OSSFs, are used to treat wastewater before it is dispersed on the property and are typically found in rural areas or areas that are not able to connect to a municipal waste collection system. Systems that are not functioning properly can contaminate our waterways with bacteria and other pollutants, in addition to causing human health hazards.  The clinic will provide a basic understanding of the operational and maintenance activities of a septic system and explain how activities within the home impact septic systems. 
There will be a presentation over health and safety considerations, how to care for and feed the system, and general maintenance procedures. The remainder of the clinic will offer participants the opportunity to ask questions in an informal setting.
Failing septic systems were identified by the Lampasas River Watershed Partnership as a potential source of bacterial contamination in nearby streams and waterways. The septic system maintenance clinic is offered as an educational component of the Lampasas River Watershed Protection Plan. 
For questions, contact Lisa Prcin, 254-774-6008 or lprcin@brc.tamus.edu. For resources about septic systems in Texas, go to http://ossf.tamu.edu/ or https://lampasasriver.org/resources/ossf/.