Lampasas River Watershed On-site Sewage Facilities (OSSF) Remediation, Phase II
Texas A&M AgriLife Extension has received funding through a Clean Water Act (CWA) Section 319(h) grant to fund the repair or installation of septic systems, also known as On-Site Sewage Facilities (OSSFs), in the Lampasas River watershed in an effort to improve water quality in the Lampasas River and its tributaries. Some of these waterways are considered by the State as "concerned" for near nonattainment of the contract recreation use due to elevated bacteria concentrations. Failing OSSFs were identified as potential sources of pollution in the Lampasas River Watershed Protection Plan. Funding is available to repair or replace approximately 20 failing OSSFs within the watershed.
This project has been funded by the United States Environmental Protection Agency under assistance agreement (99614627) to the Texas Commission on Environmental Quality.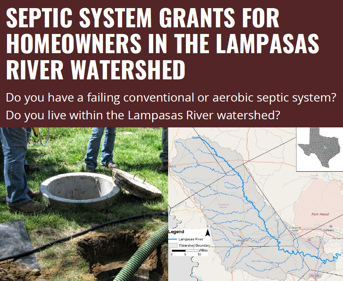 General Eligibility
Homeowners within the Lampasas River watershed that meet certain criteria are eligible to apply for one of the available grants to repair, install, or replace septic systems within the watershed. To qualify, the following criteria must be met:
o    Home must be within the portion of Bell, Burnet, Coryell, Hamilton, Lampasas, Mills and Williamson Counties located within the Lampasas River watershed.
o    Residence must be a single-family home served by a septic system.
o    Applicant must own the property.
o    The home must be occupied for the majority of the year.
o    The existing home must have a septic system that has failed or have no septic system to treat sewer discharge. New construction homes are not eligible.
o    Septic systems that are inappropriate for the soil type may also be considered if sufficient funding is available.
o    Priority will be given to properties within 2,000 feet of an impacted water body.
Needs Assessment Criteria
To award grants for the repair, replacement, or installation of OSSFs in the watershed, AgriLife will evaluate the applications using the following criteria:
Location
Priority will be given to those applicants whose property is located within 2,000 feet of an identified TCEQ river/stream segment.*
System Status
Priority will be given to systems deemed as failing and in need of repair or replacement by a licensed OSSF installer. An OSSF currently experiencing system backup, odor, or surfacing water can be impacting the surrounding area. The severity of the issue can indicate a greater risk of impact.
Order of Application Submittal
After the other two criteria are considered, priority will be given to those applicants that apply on a first come, first serve basis during the application period.
Other useful links:
Links to permitting authority in each county/municipality